How To Do Winged Eyeliner
Author: Michelle Teeken Date Posted:4 March 2022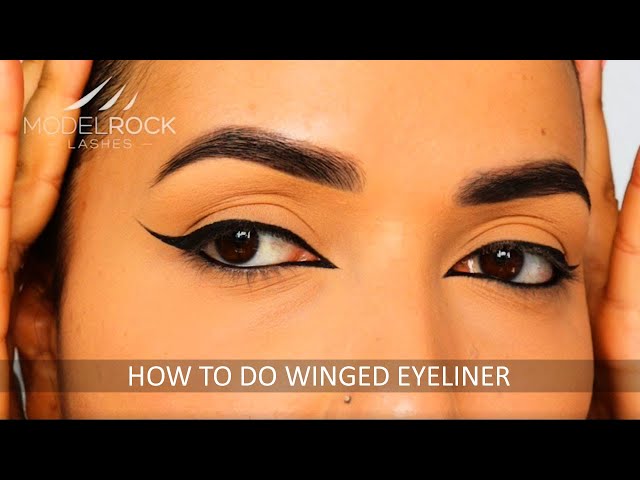 Do you struggle with doing your winged liner? We are here to help! In today's blog, we will be going over a super simplified tutorial on how to achieve an effortless winged liner look. That way, you can get it right every time with ease.

CHOOSE YOUR LINER:
There are different types of eyeliner on the market such as pencils, liquids, gels, and PENS. We suggest you experiment with each of them to see what works best for you. I am using our EYE INK EYELINER which is a squeezable, highly pigmented jet black cream eyeliner that glides on effortlessly with a silky smooth application. The eyeliner dries down to a matte finish and will stay put all day.
If you want to see other ways this product can be used, head over to our blog GRAFFITI COLLECTION EYELINER AND 3 OTHER WAYS TO USE IT OTHER THAN EYELINER.

STEP 1: LINE YOUR UPPER LASH LINE
Squeeze out enough product and coat your chosen eyeliner brush in it. Wipe the brush on a surface to take off any excess product; you do not want to over saturate your brush. Steady your elbow on a fixed surface and place a mirror in front of you at eye level or below. You want to make sure you keep your eyes slightly open and relaxed during application.
Gently drag your brush as close to the lash line as possible, starting at your inner corner and making your way to the outer corner. As you start reaching the outer corner, make your line slightly thicker. If you are not confident in dragging out a tidy line, try making dots along your lash line with the tip of your brush. Using the dots as a guide, connect to create a line and fill in any gaps until you are happy with the outcome.

STEP 2: WING IT OUT
Everyone is individual with how they angle their wings, so it is up to personal preference. Traditionally speaking, to create a flattering feline flick, think of the wing as an extension of your bottom lash line. You can use a straight object as a guide (Example, the handle of a makeup brush) to extend your lower lash line and mark the point where you want your wing to end. Using the dot as a guide, start at the outer corner of your eye and draw a line connecting to the dot. Flick your brush at the end so the end of the line is sharp.
Alternatively, you can try the sticky tape method. Before applying tape, stick it onto the back of your hand a few times to reduce some of the adhesive. Sticking it directly onto the eye area can be harsh on the skin. Apply and angle the tape using the bottom lash line as a guide. Then draw a line along the tape to create that perfect sharp edge. Wait for the eyeliner to dry before completely removing.

STEP 3: CONNECT & FILL
The last step is to connect the end of the flick to the line along your lashes, then fill in the triangle gap. Personally, I like to connect ¾ of the way along the line and then flick ever-so slightly at the end again. This just creates an extra-sharp and thin tail to your wing.

STEP 4: TIDY UP
If you have made any mistakes, you can tidy your wing up with a DUAL ENDED POINTED COTTON SWAB and MAKEUP REMOVER. Before doing so, just make sure your eyeliner has dried before cleaning it up to prevent smudging. You can also use a flat brush and some concealer around the edges of your wings to further sharpen them.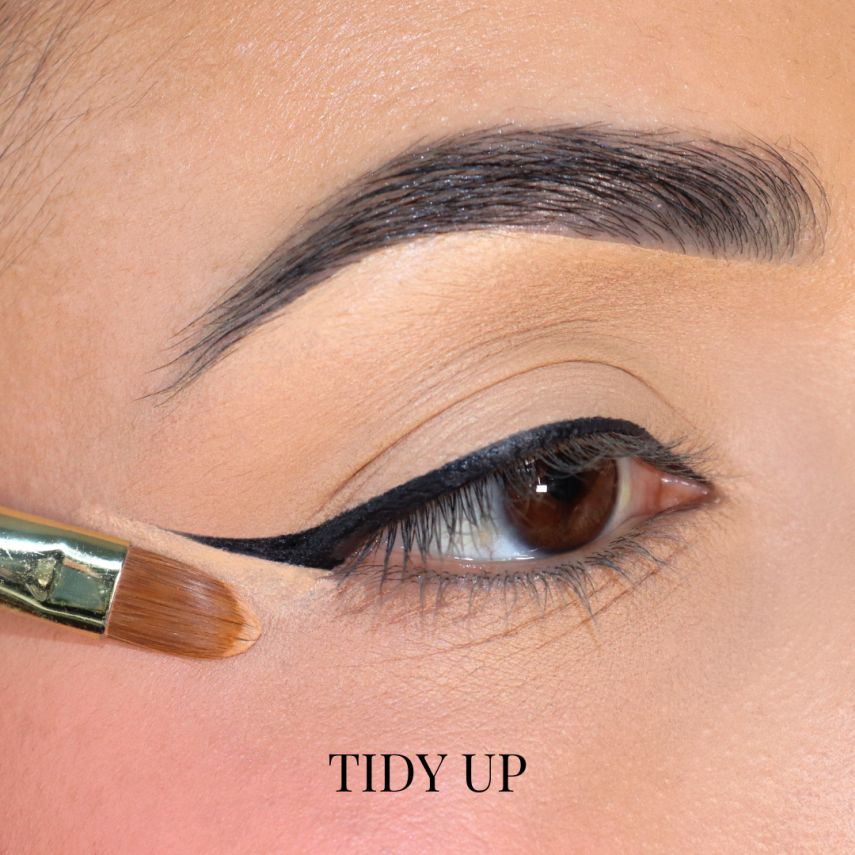 TIP: If you are feeling extra creative, try doing a pointed inner corner eyeliner (like the one in our cover photo) using similar techniques. This gives the eye an elongated effect, resulting in a sultry, almond eye shape.
AND YOU ARE DONE!
Let us know in the comments below, what is your favourite type of eyeliner to draw on your wings? Don't forget to tag us in your posts if you use our products and for a chance to be reposted, use our #MODELROCKFeatureFridays hashtag too.
---
Leave a comment