How to Achieve a Quick & Effortless Makeup Look
Author: Michelle Teeken Date Posted:5 May 2023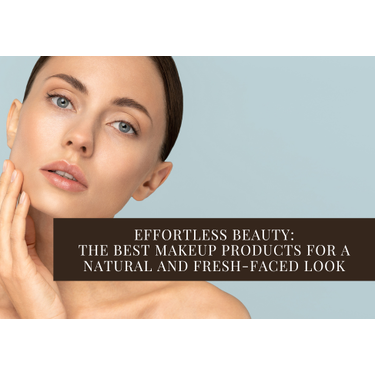 Hey there, beauties! Have you ever heard of the term "effortless beauty"? It's a makeup trend that's been gaining popularity over the past few years, and for good reason! Effortless beauty is all about achieving a natural and fresh-faced look without putting in too much time or effort. And who doesn't love that?
In today's fast-paced world, many people are looking for ways to simplify their lives, and that includes their beauty routines. With effortless beauty, you can achieve a polished and put-together look without spending hours in front of the mirror. Plus, it's perfect for those who prefer a more low-maintenance approach to makeup.
One of the main benefits of the natural and fresh-faced look is that it enhances your natural beauty, rather than covering it up. By using minimal products and techniques, you can achieve a more radiant and youthful appearance. Not to mention, it's also a great way to show off your skin's natural texture and tone.
In this blog post, we'll be sharing some of the best makeup products and tips to help you achieve that effortless beauty look. Whether you're a busy mom, a working professional, or simply someone who loves a no-fuss approach to makeup, you're sure to find something that works for you. So, let's dive in and discover the secrets to effortless beauty!
Skincare is a Must
When it comes to achieving an effortless beauty look, good skincare is essential. After all, a flawless makeup application starts with a flawless canvas! By taking care of your skin and ensuring it's healthy and hydrated, you'll be able to create a more natural and radiant makeup look.
Some recommended skincare products to use before applying makeup include a gentle cleanser to remove dirt and impurities, a moisturizer to hydrate and protect your skin, and a primer to create a smooth and even base for your makeup. Additionally, don't forget to exfoliate regularly to help remove dead skin cells and reveal a brighter complexion. Try our My Eco Beauty Kit Reusable Makeup Remover Pads for this step. Simply add water and wipe the day away.
By incorporating these skincare steps into your routine, you'll be well on your way to achieving that fresh-faced look that's perfect for any occasion.
Effortless Beauty Products & How to Apply Them
Tinted Moisturiser or BB Cream
For a natural and fresh-faced look, consider using a tinted moisturizer or BB cream instead of a heavy foundation. These products provide light coverage while still allowing your skin's natural texture and tone to show through. Alternatively, if you prefer to use foundation, try thinning it out with a moisturizer for a more sheer coverage. We like to use the Embryolisse Miracle Cream for this step! To apply your tinted moisturizer or BB cream, use your fingers or a damp Base Maker Sponge and blend it into your skin, starting from the centre of your face and working your way outwards.
Concealer
To brighten up your under-eye area and cover any blemishes, a good concealer is a must-have. Opt for a formula that's lightweight and easy to blend. Unsure how to apply it? Check out our previous blog How to Use Concealer for an in-depth explanation.
Cream Blush
For a pop of colour on your cheeks, cream blush or lipstick applied with your fingers can create a natural-looking flush. Here is one of our previous blogs on How to Use Lipstick as Blush.
Brow Gel
A brow gel can help tame and shape your brows, giving your face a more polished look. Try using our Uptown Arch Brow Gel Set! It's a weightless, clear non-sticky formula that grooms, shapes, and sets hairs into place with our precise mini spoolie wand. Formulated with BIOTIN which can help condition and stimulate hair growth, it's your new secret weapon for stay put all day, brows!
Lips
Apply a lip tint, balm or sheer lipgloss to your lips to keep them hydrated and soft.
Mascara
Finally, finish off your look by curling your lashes and adding a coat of mascara to them! Start from the base of your lashes and wiggle the wand upwards.
Achieving an effortless beauty look is all about using the right makeup products and techniques. By prioritizing good skincare, opting for lightweight and natural-looking makeup, and using simple application techniques, you can create a flawless and radiant complexion in just a few minutes. Remember, less is more when it comes to this look, so focus on enhancing your natural features rather than covering them up.
Some of the best makeup products for achieving a fresh and natural look include tinted moisturizer or BB cream, concealer, cream blush or lipstick, brow gel, mascara, and lip tint or balm. And for the final tips and tricks for mastering this look, always make sure to blend your makeup products well and choose shades that compliment your skin tone for a more natural finish.
With these tips in mind, you'll be able to achieve a stunning and effortless beauty look that's perfect for any occasion!
---
Leave a comment