Bold and Vibrant Lip Looks: Tips and Tricks to Achieve A Statement-Making Pout
Author: Michelle Teeken Date Posted:14 April 2023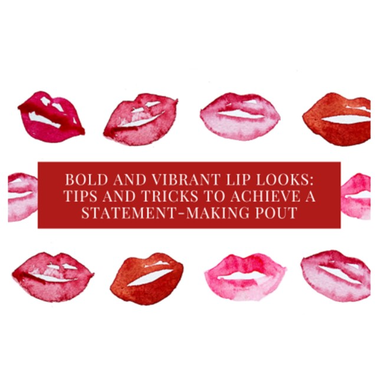 Welcome back beauties! In today's blog, we'll be diving into the world of bold and vibrant lip looks! It's no secret that this trend has taken the beauty industry by storm and has become a go-to look for many makeup lovers. With so many bold and bright colours to choose from, it's no wonder this trend has gained popularity.

But why exactly has this trend become so popular? Well, one reason is that it allows individuals to make a statement with their makeup. A bold and vibrant lip can instantly transform a look and add a pop of colour. It's a fun and easy way to elevate any outfit or makeup look.

Moreover, experimenting with different lip colours can also be a fun way to express oneself. Whether it's trying out a bold red, a bright pink, or a deep purple, there are endless options to choose from. Plus, there's no need to worry about making mistakes because makeup is all about trial and error, so go ahead and try out those new colours that you've been eyeing!
In this blog, we'll be sharing some tips and tricks on how to achieve a statement-making pout with bold and vibrant lip colours. So, let's get started!
Tips for Creating Bold and Vibrant Lip Looks
When it comes to creating bold and vibrant lip looks, choosing the right shade is key. The best way to do this is by considering your skin tone and personal preferences. Warm-toned skin looks great with orange-based colours, while cool-toned skin works well with blue-based colours. It's also a good idea to consider your overall makeup look and outfit to ensure your lip colour ties everything together. Check out our previous blog How to Choose the Best Lipstick Shade for Your Skin Tone the for an in-depth explanation.
Before applying any lip colour, it's important to prep your lips to ensure the best application and longevity. Exfoliating your lips with a lip scrub and moisturizing them with a lip balm can help create a smooth base for your lip colour. Additionally, using a lip primer can help your lip colour stay in place for longer.
When it comes to techniques and styles to achieve a bold and vibrant lip look, there are a few options to consider. For a classic bold lip, apply the lip colour directly to your lips, making sure to stay within the lines. To create an ombré effect, apply a lighter shade to the centre of your lips and a darker shade on the outer edges, then blend together with a LIP BRUSH. And for a high shine finish, apply a gloss over your lip colour.
Product Recommendations for Bold Vibrant Lip Looks
If you're looking for some top-quality products to help you achieve bold and vibrant lip looks, look no further! Here are some of our favourite product recommendations for lipsticks and lip glosses that will help you make a statement with your pout. First on our list is the Liquid To Matte Longwear Lipstick. This long-lasting, high-pigment lipstick comes in a variety of shades, from bold reds to vibrant pinks. Its silky, smooth formula ensures a comfortable wear, while its intense colour payoff guarantees a bold look.

Next up, the Velvet Soufflé Matte Lip Topper. These feather-light lip toppers are versatile and can be worn either on their own or layered over your favourite Lip Pencil to enhance your pout with a rich and enduring colour payoff.

Finally, if you prefer a glossy finish, the Luxe Silk Lip Gloss has got you covered. This super pigmented gloss provides high shine, without any stickiness. Its hydrating formula also helps keep lips feeling soft and moisturized. No matter what you choose, you can trust that you'll be getting a high-quality formula that delivers bold and opaque colour. So, go ahead and experiment with different shades and finishes to find your perfect statement-making lip look!
Bold and Vibrant Lip Looks For Different Occasions
While a bold and vibrant lip look may seem like something reserved for special occasions or evenings out, it's a versatile look that can be worn in a variety of settings. No matter the occasion, it's important to choose a lip colour that complements your outfit and makeup look. If you're wearing a bold and vibrant lip colour, keep the rest of your makeup minimal to avoid overwhelming your look. And if you're wearing a statement outfit, pair it with a more neutral lip colour to balance out your overall look. Check out our previous blog How to Match Your Makeup to Your Look for more tips and tricks!
Here are some suggestions on when and where to rock a bold and vibrant lip, and how to pair it with other makeup items and outfits.
Daytime
For a daytime look, consider a bright pink or coral lip colour paired with minimal eye makeup and a fresh-faced complexion. This look is perfect for a weekend brunch or a casual day out.
Work
To add a pop of colour to your work wardrobe, try a classic red lip paired with neutral eye makeup and a polished, professional outfit.
Nightime
For a more glamorous evening look, opt for a deep berry or plum lip colour paired with smoky eye makeup and a chic outfit. This look is perfect for a night out with friends or a fancy dinner date. To add some sparkle and shine, pair your bold lip look with a shimmery highlighter and some statement jewellery.

There you have it, our tips and product recommendations for creating bold and vibrant lip looks! Remember to choose shades that complement your skin tone and personal style. Don't skip giving your lips some love and prep your lips properly for the best application and longevity. Try out different techniques and styles, such as a matte finish or a metallic sheen, to find the perfect look for any occasion.
And don't forget, experimenting with different lip colours can be a fun way to express yourself and boost your confidence. Don't be afraid to step out of your comfort zone and try something new! With the right products and techniques, you'll be able to achieve a statement-making pout that will turn heads wherever you go.
Thanks for reading, and happy lip experimenting!
---
Leave a comment