Get Ready to Shine: How to Achieve a Glamorous Makeup Look for Your Night Out
Author: Michelle Teeken Date Posted:21 April 2023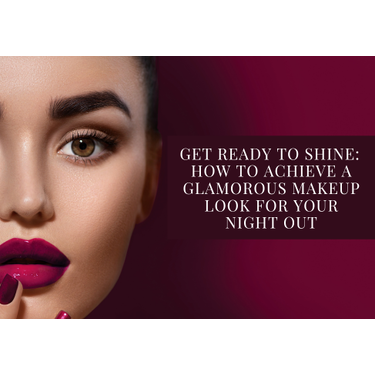 Hey Beauties! Are you getting ready for a big night out and want to make sure you look your absolute best? Well, you're in luck because we've got the perfect guide for you!
Getting ready for a night out can be exciting, but also overwhelming. You want to look your best and make a statement, which is why a glamorous makeup look is perfect for the occasion. It's all about embracing your inner diva and going bold with your makeup choices.
But before we dive into the step-by-step instructions, let's talk about the importance of choosing the right makeup products for a glamorous look. The key is to opt for high-quality products that will last all night long and not smudge or fade away. We'll be discussing which products to use and how to apply them for the perfect glamorous look.
So, get ready to shine and turn heads on your night out with these tips and tricks for achieving a glamorous makeup look. Let's get started!
Prepping Your Skin
Before diving into the makeup application, it's crucial to prep your skin to ensure a flawless and long-lasting finish. The key to achieving a glamorous makeup look is having a smooth and hydrated base to work with. That's why it's important to follow a proper skincare routine that involves cleansing, toning, and moisturizing.
Start by cleansing your skin with a gentle facial cleanser to remove any dirt, oil, or makeup residue.
Next, use a toner to balance the pH levels of your skin and help your makeup adhere better.
Finally, moisturize your skin with a hydrating moisturizer to lock in moisture and create a smooth canvas for your makeup. We recommend using the EMBRYOLISSE MIRACLE CREAM for this step! It is a rich moisturizing lotion which makeup artists use as a primer/moisturiser.
Take the time to pamper your skin and give it the love it deserves. Your skin will thank you, and your makeup will look flawless.
Creating a Flawless Base
Creating a flawless base is essential for achieving a glamorous makeup look. The key is to choose the right foundation that matches your skin type and tone.
For an in-depth tutorial on how to find the perfect foundation for you, check out our previous blog: How to Choose the Best Foundation for Your Skin Tone. Once you've found your perfect foundation, it's time to apply it.
Start by dotting it onto your face and blending it with a Makeup Brush or Base Maker Sponge. The key to a flawless base is to blend everything well and use the right products for your skin.
Next, apply concealer to any blemishes, under-eye circles, or areas of discoloration. Make sure to blend it well for a seamless finish.
Finally, Set Your Makeup Like a Pro with a light dusting of powder to prevent any creasing or shine throughout the night.
Adding Definition to Your Features
Adding definition to your features is the next step in achieving a glamorous makeup look.
First up, let's talk about eyebrows.
Well-groomed eyebrows can add structure to your face and make a huge difference in your overall look. Use an Eyebrow Pencil or Powder to fill in any sparse areas and create a defined shape that complements your face shape.
Next, contouring is a great technique to add definition to your face.
Use a contouring powder or cream to create shadows in areas such as your cheekbones, jawline, and forehead. This will add dimension to your face and make your features pop. If you are unsure how to contour your face, check out our previous blog: How to Contour Your Face which includes a video demonstration.
Moving on to the eyes, a defined eye look is a must for any glamorous makeup look.
Adding More Details
Adding more details to your makeup look is the perfect way to take it to the next level.
Let's start with the lips.
Choosing the right lipstick shade is important to complement your overall look. A classic red or a bold pink can make a statement, while a nude or a soft pink can give a more subtle touch. When applying lipstick, start from the centre of your lips and work your way outwards for a perfectly even finish. Unsure how to pick your prefect shade? Click here.
To add shimmer and sparkle to your look, highlighter and glitter are your go-to products.
Use a highlighter, such as our Glow Your Way Highlighter palettes, on the high points of your face, such as your cheekbones, nose, and cupid's bow, to create a glowing effect. For some extra sparkle, add some glitter to your eyelids or even to your cheekbones for a touch of glam.
Final Touches
The final touches of your makeup look are just as important as the initial steps. To make sure your makeup lasts all night, it's important to set it with a setting spray. This will help your makeup stay in place and prevent it from smudging or fading.
Throughout the night, it's a good idea to carry some touch-up products with you. Blotting papers are great for getting rid of excess oil on your face without disturbing your makeup. A small powder compact and powder puff is perfect for touching up any areas where your makeup has faded. Another great product to keep in your touch-up kit is your chosen lipstick or gloss. Lipstick is often the first thing to fade, especially after eating or drinking. Having your lipstick or gloss on hand allows you to quickly touch up any areas where the colour has lifted or smudged.
Conclusion
Achieving a glamorous makeup look for your night out is all about taking the time to prep your skin, create a flawless base, add definition to your features, and add those final touches that will make you shine. Finally, don't forget to set your makeup with a setting spray and carry touch-up products with you for the night. With these steps and tips, you'll be sure to create a glamorous makeup look that will make you stand out on your night out.
So go ahead, have fun with your makeup, and don't be afraid to experiment with different products and techniques. After all, makeup is all about expressing yourself and feeling confident in your own skin.
---
Leave a comment