How To Do Your Eyebrows With Pomade
Author: Michelle Teeken Date Posted:9 March 2023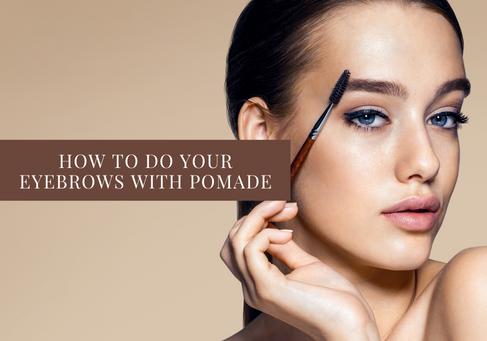 Hey beauties! Are you looking for an easy and affordable way to achieve that perfectly sculpted brow look? Well, look no further because today's blog post is all about how to do your eyebrows with pomade.
We'll walk you through the step-by-step process of using pomade to shape and fill in your eyebrows, as well as provide you with some helpful tips and tricks along the way. So, sit back, relax, and get ready to take your eyebrow game to the next level!
What Is Eyebrow Pomade?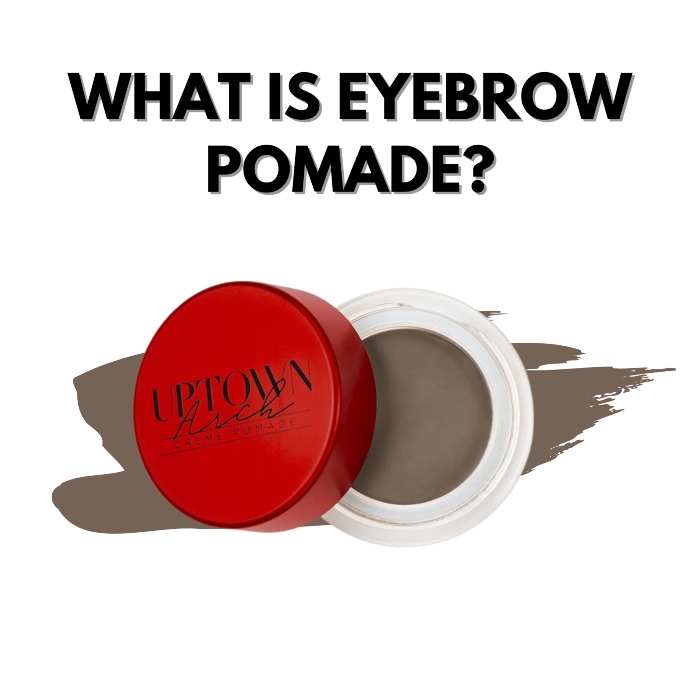 First things first, what is eyebrow pomade and why is it so popular? Eyebrow pomade is a creamy, pigmented product that is used to fill in and shape eyebrows. It is typically applied with an angled brush and can give your brows a bold and defined look. Pomade has become increasingly popular in recent years because it is long-lasting and can create a variety of eyebrow styles, from natural to dramatic.
However, using pomade for your eyebrows might seem intimidating at first. You might worry about making mistakes or ending up with an unnatural or overdone look. But fear not! With a little bit of practice and some helpful tips, you can easily overcome your fear of using eyebrow pomade and achieve the perfect brow look.
Materials Needed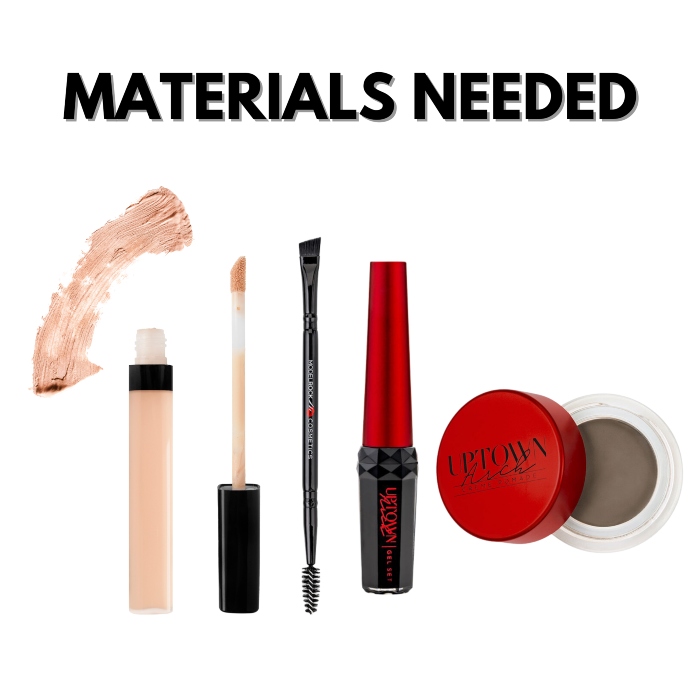 Before we dive into the nitty-gritty of how to do your eyebrows with pomade, let's talk about the materials you'll need to get started. Here's a list of what you'll need:
· Eyebrow Pomade: This is the star of the show! The pomade itself is used to fill in sparse areas and create a defined shape. Choose a pomade that matches the colour of your natural eyebrows and has a creamy consistency for easy application. Our UPTOWN ARCH BROW CREME` POMADE comes in six different shades for you to choose from. It provides all-day, waterproof, and sweat-proof wear that won't budge. Formulated with BIOTIN to help condition brows and stimulate hair growth, this easy-to-blend buildable formula gives a high-pigment finish.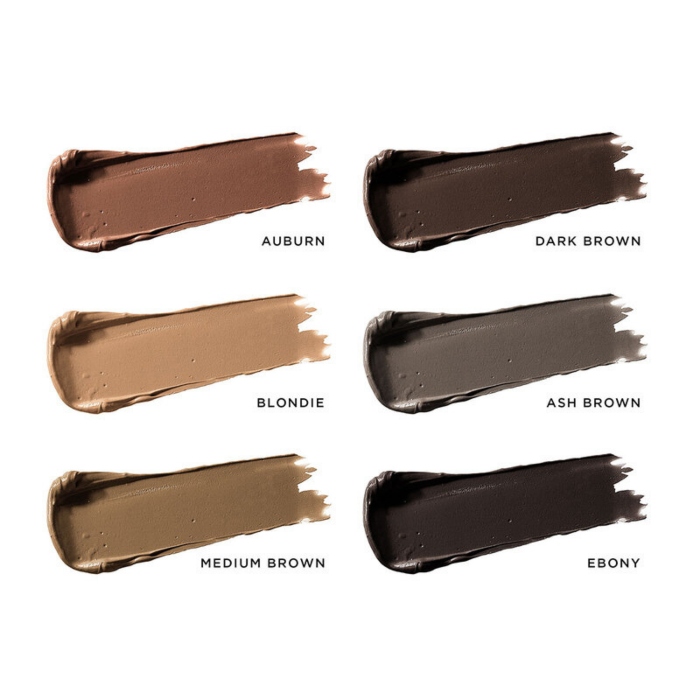 · Angled Brush: An angled brush is essential for applying the pomade precisely and creating clean, sharp lines. We recommend a double ended angle brush, like our GOLD LUXE BROW BRUSH - DUO ENDED #202, that has a spoolie end. A spoolie brush is used to blend the pomade and brush your eyebrow hairs into place for a natural look. If your angled brush doesn't have one, you can use a DISPOSABLE MASCARA WAND.
· Brow Gel: Brow gel is highly recommended to set your eyebrows in place and keep them looking great all day long. Try our UPTOWN ARCH BROW GEL SET! It is a weightless, clear non-sticky formula that grooms, shapes, and sets hairs into place with our precise mini spoolie wand. It is also formulated with BIOTIN which can help condition and stimulate hair growth.
· Concealer: If you want to clean up any mistakes or create a more defined look, concealer can be used to highlight the brow bone and cover up any smudges.
Prepping Your Eyebrows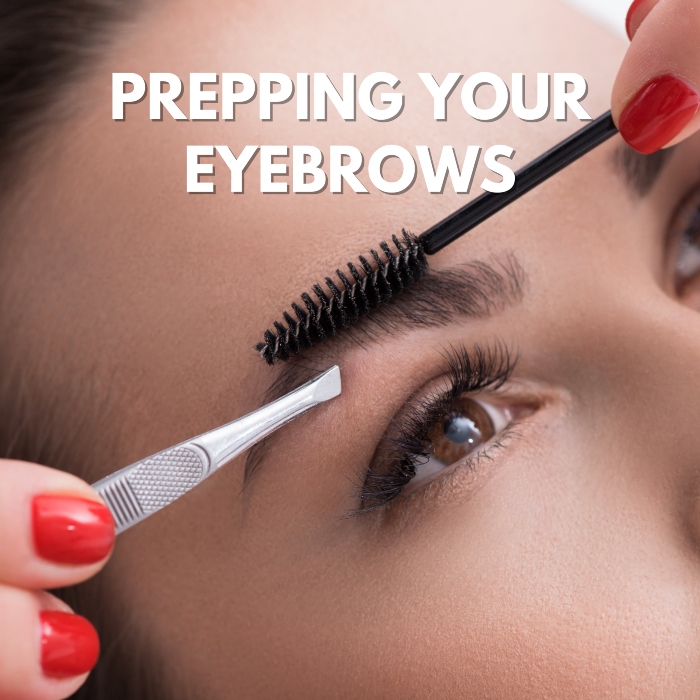 Now that you have your materials ready, it's time to prep your eyebrows for pomade application. Prepping your eyebrows is an important step in achieving the perfect look, as it helps the pomade go on smoothly and stay in place throughout the day. It also helps you see the shape of your eyebrows more clearly, so you can create a defined look that complements your face shape.
Start by brushing your eyebrow hairs upwards and outwards with the spoolie brush. This will help you see any sparse areas or unevenness that need to be filled in with pomade. If your eyebrow hairs are particularly long, you may want to trim them with SCISSORS or a brow trimmer. Be sure to trim conservatively and only remove a small amount at a time to avoid overdoing it.
If you're trimming your eyebrows for the first time, it's important to be cautious and take it slow. You can always trim more later, but it's harder to undo a mistake. When in doubt, it's best to seek the help of a professional eyebrow stylist who can guide you through the process and ensure you achieve the look you desire.
Applying The Pomade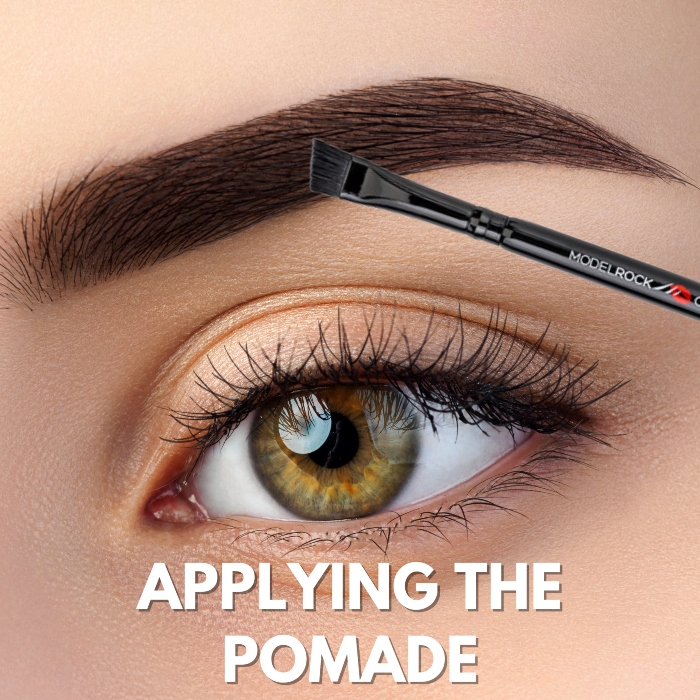 Now that your eyebrows are prepped and ready, let's get started on applying the pomade.
· Using the angled brush, dip it lightly into the pomade and start by creating small, hair-like strokes along the bottom of your eyebrow. As you work your way towards the arch, start feathering the brush upwards to create a natural-looking arch. Continue filling in any sparse areas using small, short strokes, being careful not to apply too much pomade at once.
· To avoid a heavy or overdone look, it's important to use a light hand when applying the pomade. Start with a small amount of product and build up gradually until you achieve your desired look. You can also use the spoolie brush to blend and soften the pomade for a more natural finish.
· When filling in the arch of your eyebrow, make sure to follow the natural shape of your brow. Creating a too-high or too-low arch can make your eyebrows look unnatural and unflattering. It's also important to step back from the mirror frequently and check your progress to ensure both eyebrows look symmetrical and balanced.
Blending and Setting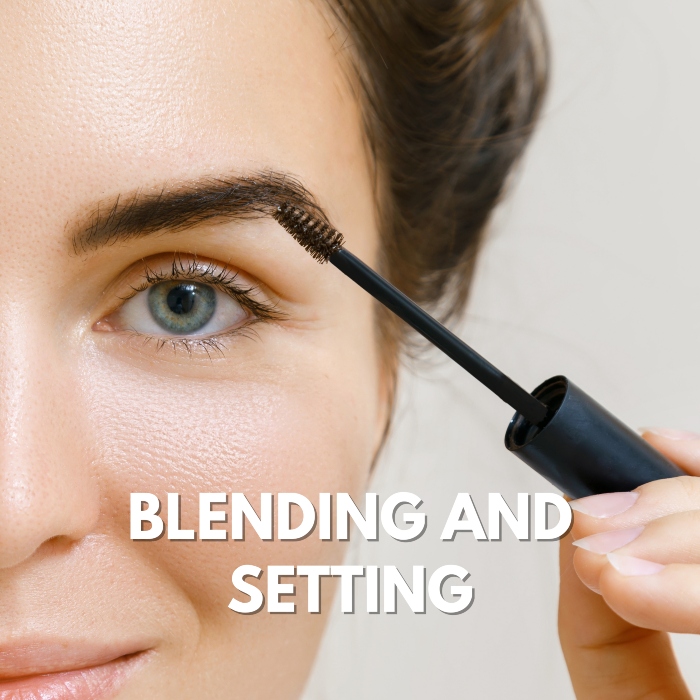 After applying the pomade, it's important to blend it for a natural-looking finish.
· To do this, use the spoolie brush to comb through your eyebrows, blending the pomade and brushing any excess product outwards. This will soften any harsh lines and give your eyebrows a more natural, feathered look.
· Once you're happy with the shape and blend of your eyebrows, it's time to set them in place with brow gel. Brow gel will keep your eyebrows in place throughout the day and prevent any stray hairs from sticking out. Using a small amount, brush through your eyebrow hairs in an upward motion. This will ensure that your eyebrows stay put and maintain their shape.
If you don't have brow gel, you can use hairspray or clear mascara as a substitute. Simply spray a small amount of hairspray on the spoolie brush or apply a small amount of clear mascara and brush through your eyebrows.
Cleaning Up The Edges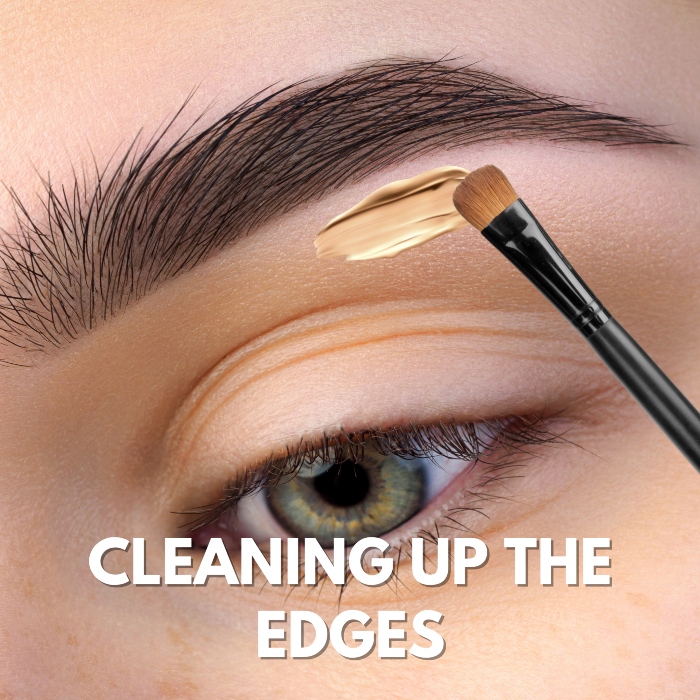 Cleaning up the edges of your eyebrows is an important step in achieving a polished and finished look.
· To do this, take a small MAKEUP BRUSH and apply a small amount of concealer along the edges of your eyebrows. This will help to define the shape of your brows and create a clean, sharp line.
· Be sure to choose a concealer that is one shade lighter than your skin tone for a more natural look. Apply the concealer sparingly and blend it well for a seamless finish. You can also use a small amount of foundation or powder to clean up the edges of your eyebrows if you don't have concealer.
· Remember, a little goes a long way when it comes to cleaning up the edges of your eyebrows. Using too much concealer or product can create a harsh and overdone look. So be sure to use a light hand and blend well for a natural and polished finish.
Conclusion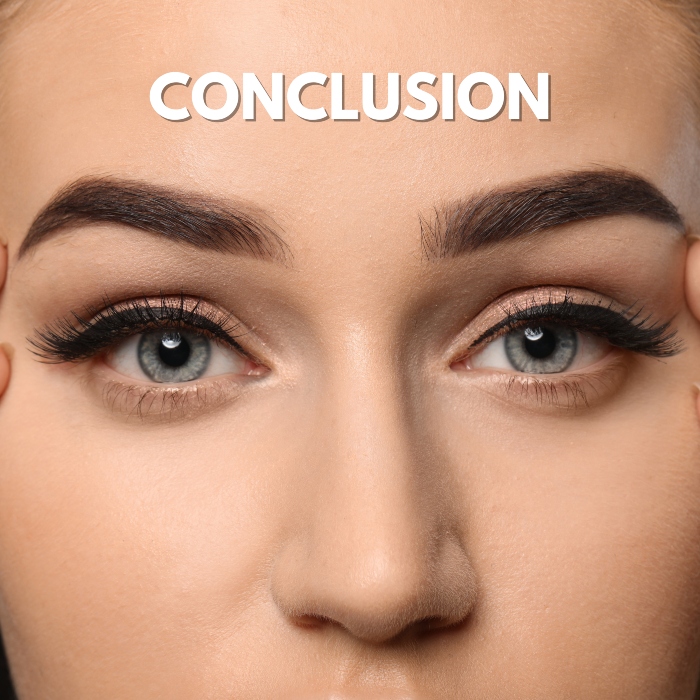 In conclusion, using eyebrow pomade is a great way to achieve perfectly shaped and defined eyebrows. With a little practice and patience, you'll be able to create a flawless and natural-looking eyebrow look that complements your unique features.
Remember, there's no one-size-fits-all approach when it comes to eyebrow grooming. Experiment with different techniques and products to find what works best for you. Whether you prefer a bold and dramatic look or a more subtle and natural finish, there are countless ways to customize your eyebrow look to suit your style and preferences.
Here are a few final tips to help you achieve the perfect brow:
· Use a light hand when applying pomade to avoid a heavy or overdone look.
· Follow the natural shape of your eyebrows when filling in the arch and edges.
· Step back from the mirror frequently to ensure both eyebrows are symmetrical and balanced.
· Don't forget to blend and set your eyebrows for a natural-looking finish.
· And most importantly, have fun with it!
With these tips and tricks, you'll be well on your way to achieving the perfect eyebrows using pomade. So go ahead and give it a try – you might just discover your new favourite beauty routine!
---
Leave a comment