INTERNATIONAL LASH DAY: Everything You Need To Know
Author: Michelle Teeken Date Posted:3 February 2023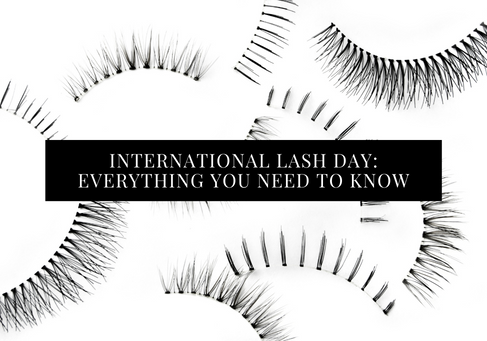 Beauties, it's time to pamper those LASHES! International Lash Day is just a stone's throw away and we're here to help you celebrate in style. Whether you prefer natural or bold, there's no better day to embrace your lashes than on this special day. In this blog, we've got all the juicy details on International Lash Day, including how it started, how people celebrate, and how you can join in the fun. So, let's put those lashes on display and #GETYOURMODELROCKON!
What Is International Lash Day?
International Lash Day is all about showing some love to those gorgeous lashes! It's a day to celebrate all things lashes and how they've made their mark in the beauty industry. From NATURAL looks to bold and DRAMATIC styles, there's a lash style for everyone, and this day is a celebration of them all. Whether you're a lash pro or just starting out, International Lash Day is the perfect opportunity to connect with other lash lovers and appreciate all the amazing things lashes can do. So, let's give a shoutout to those lashes and have some fun!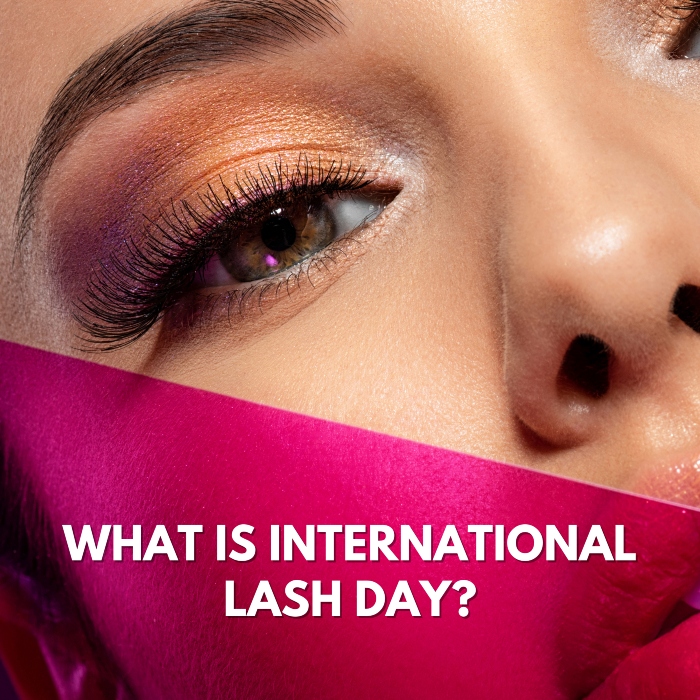 When Is It Celebrated?

International Lash Day is celebrated annually on February 19th. It is a day dedicated to recognizing the beauty and artistry of lashes and has become a widely recognized holiday in the beauty industry. The day was officially recognized as a holiday in recent years and has since become a popular event among lash enthusiasts, professionals, and makeup artists. Beauties celebrate International Lash Day in a variety of ways, including:
· Lash Makeovers: Some salons and beauty clinics offer special deals on lash extensions and lash lifts to mark the occasion.
· Social Media: People often take to social media to share their love for lashes by posting photos of their favourite lash styles, using hashtags such as #InternationalLashDayand #LashGoals.
· Workshops and Events: Many beauty schools and lash studios host workshops and events to celebrate International Lash Day. These events offer a great opportunity for people to learn about the latest lash trends and techniques.
· Giveaways: Some brands and businesses offer giveaways and special promotions on International Lash Day.
No matter how you choose to celebrate, International Lash Day is a day to embrace your love for lashes and to appreciate the many different styles and techniques used to enhance them. So why not grab your favourite MASCARA, lashes, and join in on the fun!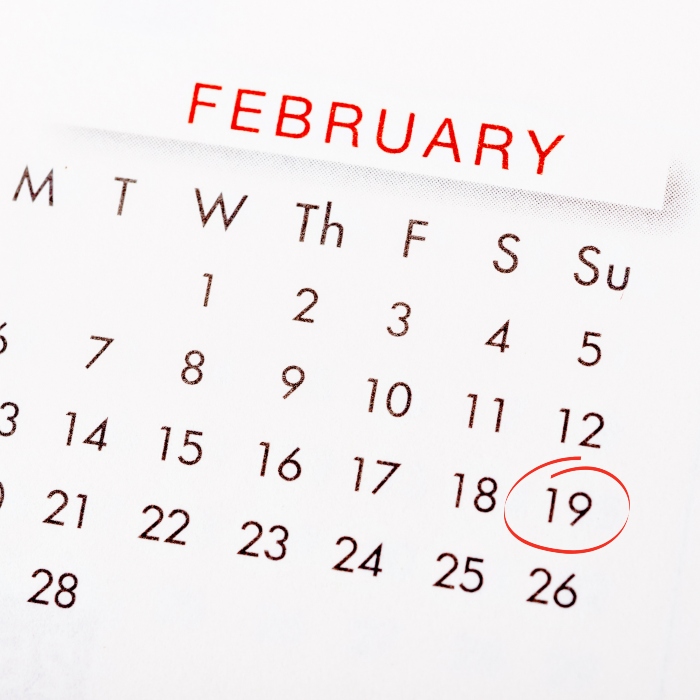 History of False Lashes

The history of lashes and mascara is fascinating, characterized by its changing popularity and diverse styles. Keep reading to discover how lashes have evolved throughout the decades.
1900s: Introduction of False Lashes and Mascara
False lashes made their first appearance in the early 1900s, with movie stars like Mary Pickford and Anna Pavlova being known to wear them. Mascara also became popular during this decade, with the first commercial mascara product being sold in 1913.
1920s: Flapper Era Glamour
The flapper era of the 1920s saw an increase in the popularity of false lashes and mascara, as women sought to emulate the bold, dramatic looks of stars like Clara Bow and Louise Brooks.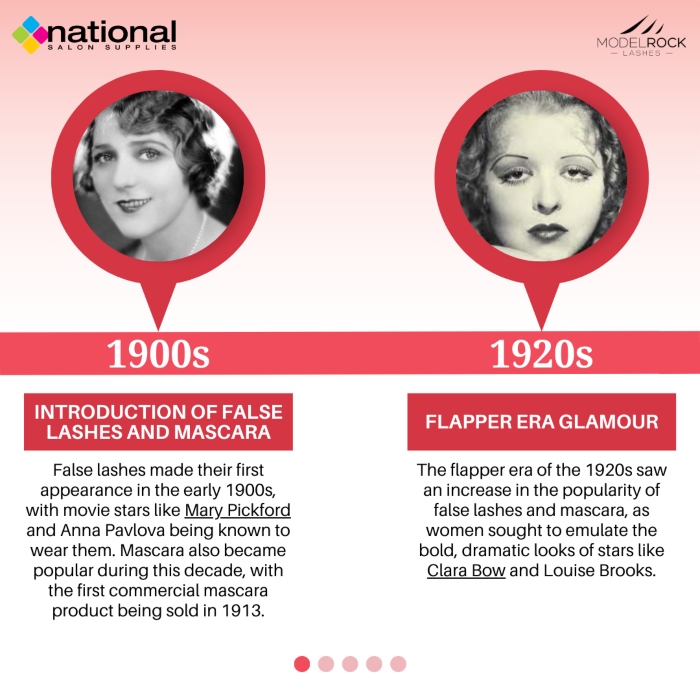 1930s: Hollywood Influence
Hollywood continued to influence beauty trends in the 1930s, with actresses like Greta Garbo and Marlene Dietrich popularizing the use of false lashes and mascara to create a more dramatic, glamorous look.
1940s: War-time Rationing
World War II limited the availability of cosmetics as rationing was implemented. Eyelash products were scarcely available, but came in various shades such as black, brown, and blue. Traditional block cake mascaras were still being used, while cream mascara came in a tube and was applied with a small brush.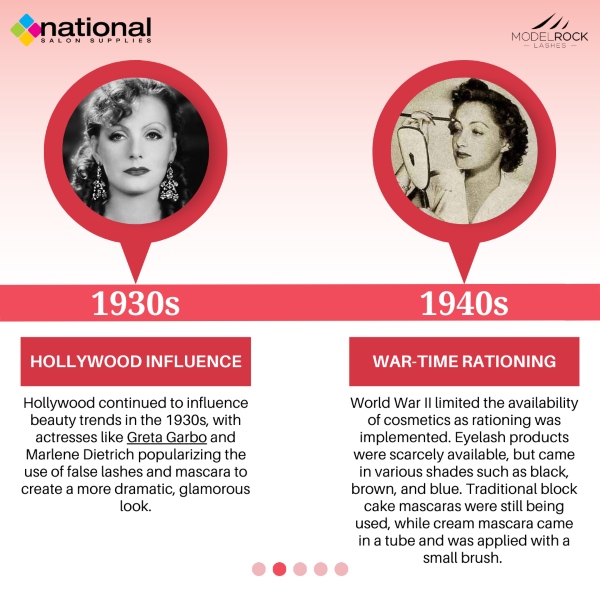 With the war over, the 1950s saw a return to more glamorous, feminine beauty looks, with false lashes and mascara becoming popular again. Movie stars like Marilyn Monroe and Elizabeth Taylor helped to popularize these beauty trends.
False lashes and mascara continued to be popular in the 1960s. Twiggy, a famous British model of the time, who was known for wearing dramatic falsies, spiked the trend. Twenty million false lashes were sold during the decade.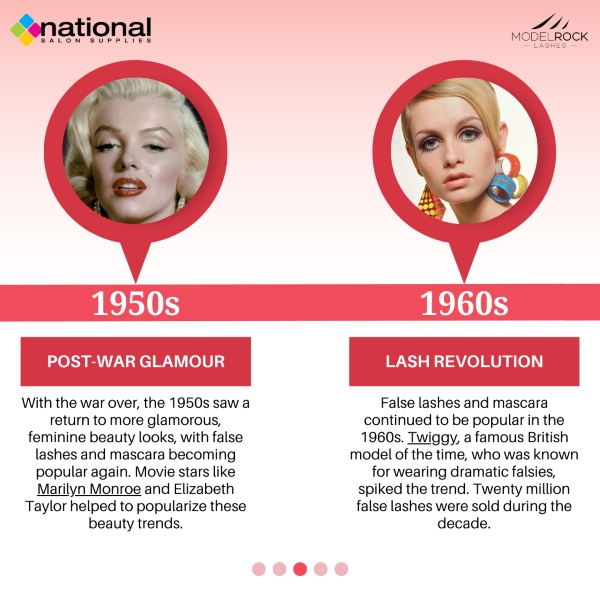 During the 1970s, there were a wide range of makeup trends. They varied from minimalistic to bold styles inspired by the Disco Era. Despite the variation, fake lashes became less popular, as natural lashes were considered more fashionable.
The 1980s saw a return to more glamorous, exaggerated beauty looks, with false lashes and mascara once again becoming popular. Pop stars like Madonna and Cyndi Lauper helped to popularize these beauty trends.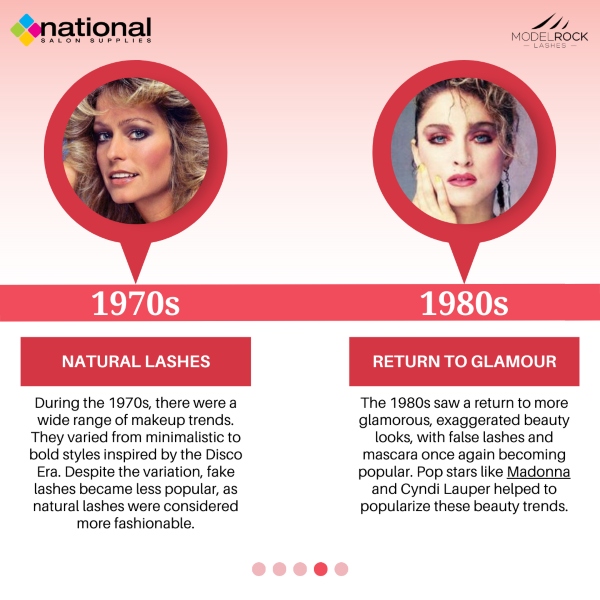 The 1990s saw a move towards more natural beauty looks, with minimal makeup and natural lashes becoming popular. Supermodels like Kate Moss and Cindy Crawford helped to popularize these beauty trends.
2000s to Now: Bold Lashes
False lashes and mascara became popular again in the 2000s, with trends like thick, dramatic lashes and bold, colourful mascaras. Social media influencers and celebrities like Kylie Jenner, Kim Kardashian and many more popularized these beauty trends.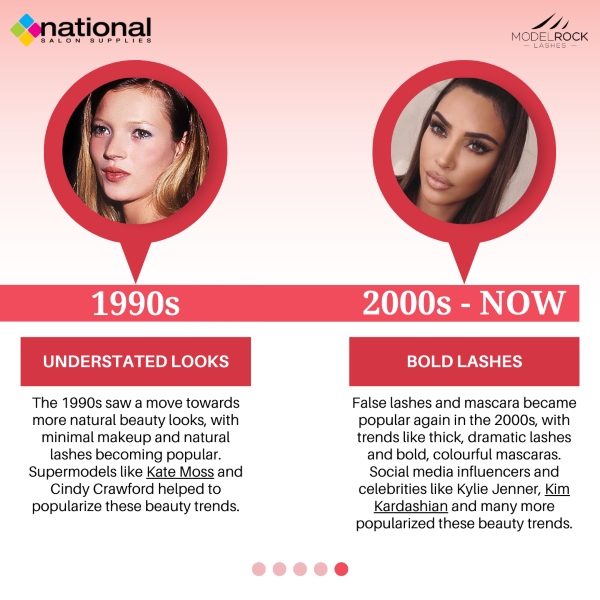 Lashes We Celebrate
Whether you're a fan of WISPY lashes, dramatic falsies, or anything in between, there's a style for everyone. At MODELROCK, we're proud to be a part of this celebration, offering a wide range of lashes that cater to all styles and preferences. Here are some lashes we are celebrating this International Lash Day!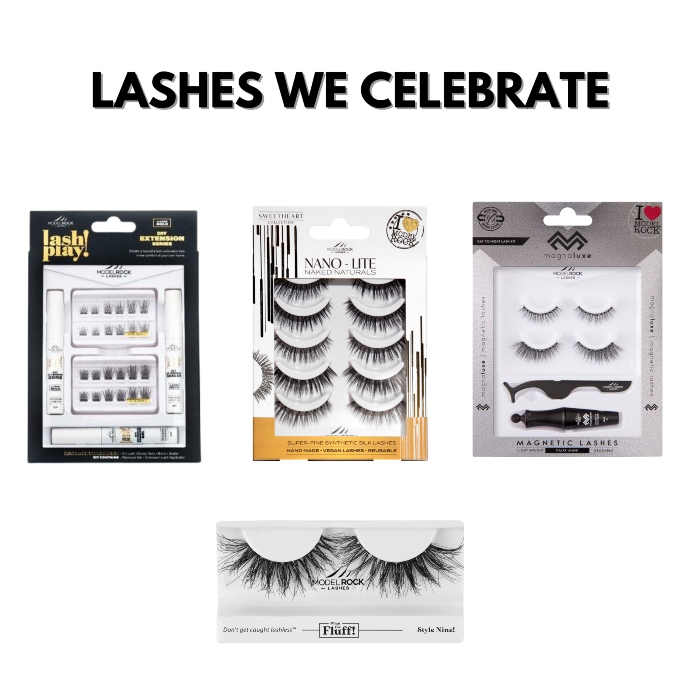 · NANO - LITE NAKED NATURALS: Naked Naturals are a beautiful, curated collection of the most light and delicate natural style lashes that will mimic the look of your natural lashes, perfect for the 'No Makeup - Makeup look' - also perfect for Brides who want a very natural lash look on their special day! Our NANO-LITE lash band is the thinnest of its kind for a strip lash at just 0.06mm which is literally undetectable on the eyes, the lashes are therefore super lightweight and offer superior all-day comfort.
· MAGNA-LUXE MAGNETIC LASHES: MAGNA-LUXE Magnetic Lashes have been created using our special 'Micro Mini Magnet' system that consists of 10-micro mini magnets strategically placed along the lash band ensuring a perfect fit even if trimming is required for smaller eye shapes thus creating a luxurious and premium quality magnetic lash that is much more comfortable and that keeps its natural shape for multiple wears. Each set of magnetic lashes has been individually hand-crafted with love to give a soft and flattering look to the eyes. Our luxury Vegan, Cruelty free Faux Mink magnetic lashes have been made with super soft and fluffy Faux Mink synthetic silk fibres and are incredibly lightweight so you'll be able to comfortably wear them all-day! Our super-flex lash bands are made to flex with the natural curve of the eyes and provide you with superior all-day comfort.
· WHAT THE FLUFF! LASHES: We wanted to create a range of lashes that would 'mimic' the look of the traditional mink lash but with OUT the cruelty to animals and we are so happy to bring our new collection WHAT THE FLUFF to life using only natural human hair! The super layered 3D styling will give your eyes a gorgeous and glam look so you can slay your day! Made from 100% Natural Human Hair with our Super Flex cotton lash band - MODELROCK lashes are completely Hand-Made by our skilled Lash artisans' team who have years and years of experience in the ART of creating beautiful faux eyelashes and thus gives the quality and consistency that MODELROCK are globally renowned for.
· LASH PLAY - DIY AT HOME LASH EXTENSIONS KIT: Our Lash Play DIY Extensions are designed to be used once to keep that fresh, salon quality look, however some customers do wish to re-use their lash extensions. If you do wish to do this just ensure you clean the lash extensions and the lash band of all bond residue and lash sealer before re-applying. If there is any bond or sealer residue, oils or dirt, the lash extensions will not adhere as well as the first time and will not last long. If the lash clusters have been treated with care and if they have been cleaned thoroughly and stored back onto the lash tray in readiness for next use it is possible to re-use them.

We hope this blog has inspired you to celebrate the beauty and art of lashes. Mark your calendars for February 19th, International Lash Day, and join us in giving your lashes the love they deserve. Remember to embrace your unique style and showcase your amazing lash work. Don't forget to snap a photo and share it with us using the hashtag #MODELROCKLASHES – we can't wait to see your stunning lashes!
---
Leave a comment